Vous êtes ici : Erasmus+60ENHackathon
Hackathon
Within the framework of the Erasmus+60 project, a highly innovative project focusing on European citizens aged 60 and above, the University of Latvia will organize a Hackathon on "Third-age learning perspectives in modern society" on April 18th, 2023.
This one-day online event will be held in English and will bring together stakeholders of the project, professionals and leaders in the respective field, NGOs, state institutions, seniors and other involved and interested persons to discuss, collaborate, evaluate and find innovative solutions.
Discussions will cover the following topics: well-being factors of studying for seniors (knowledge and future skills to be developed), life-long learning resources (opportunities and effective tools) and ways to increase their engagement in life-long learning. Collected feedback will be highly important in the development of policy recommendations and final report.
To register by April 12, please click here.

If you encounter any issues with the registration form, please write an email to: erasmus60@uvsq.fr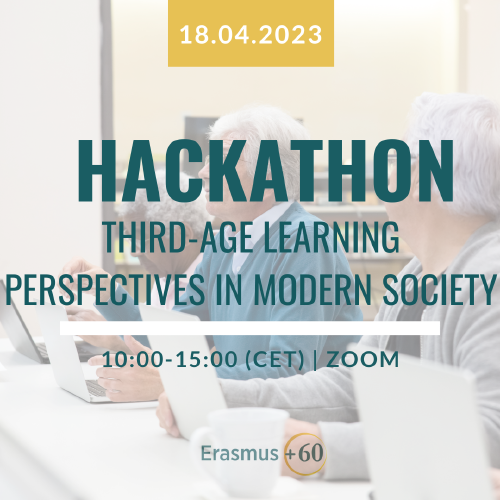 AGENDA
Activity

Start time – End time (CET)

Speaker(s)

Welcome and introduction

10:00 – 10:15

University of Latvia team

Keynote speeches

Open Innovation in Senior Education

10:15 – 10:35

Iveta Cīrule, Third-Age University

Inclusion of seniors in lifelong learning

10:35 – 10:55

Tatjana Azamatova, project manager in Senior School

Break 11:00 – 11:20

Discussions

Let's hack!

Explanation of organizational procedure (introduction with group moderators, division in rooms related to chosen topic)

11:20 – 11:45

University of Latvia team;

Moderators: prof. S. Kalniņa, asoc.prof. S.Baranova, G. Kaņepāja

1st round – division into rooms

Wellbeing factors of studying for seniors (knowledge and future skills to be developed)

11:45-12:45

Prof. S. Kalniņa

Lifelong learning resources (opportunities and effective resources (tools))

11:45-12:45

Asoc.prof. S. Baranova

Motivation (How can we engage seniors in lifelong learning?)

11:45-12:45

PhD student G. Kaņepāja

Break 12:45-13:00

2nd round – division into rooms

Wellbeing factors of studying for seniors (knowledge and future skills to be developed)

13:00 – 14:00

Prof. S. Kalniņa

Lifelong learning resources (opportunities and effective resources (tools))

13:00 – 14:00

Asoc.prof. S. Baranova

Motivation (How can we engage seniors in lifelong learning?)

13:00 – 14:00

PhD student G. Kaņepāja

Break 14:00 – 14:15

Follow up from discussions into rooms

14:15 – 14:35

Group moderators (prof. S. Kalnina, asoc.prof. S. Baranova and G.Kaņēpāja)

Conclusions and suggestions

14:45 – 15:00

University of Latvia team